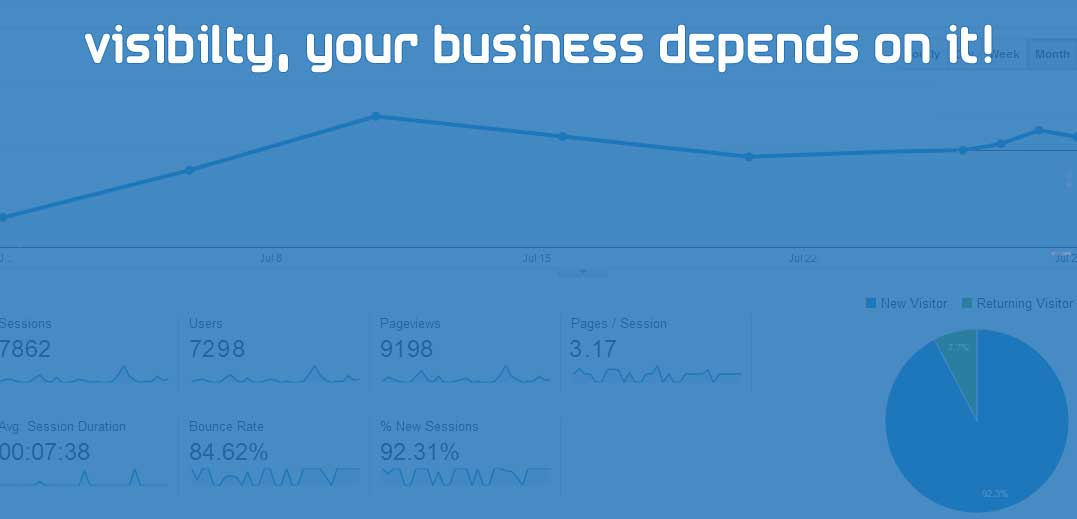 At Digital Visibility Marketing we enable your business to stimulate customer traffic to your website and business location by specifically targeting qualified prospects with zero wasted advertising dollars:
Identifies up to 90% of visitors to your website and business location, then follows those visitors with digital messaging to stimulate repeat business;

Captures consumers who initiate internet searches using keywords relevant to the products and services your business offers regardless of what websites those searches might access; enabling digital messaging to follow those consumers and expose them to your company;

Captures consumers as they visit relevant pages on large national websites (for example consumers who visit Lowes or Home Depot and then access pages within those sites relevant to your business such as floor coverings, furnishings, electronics or plumbing fixtures, etc.); enabling digital messaging to follow those consumers to redirect them to your business; and,

Utilizes digital technology to capture consumers' smart phone as they visit a specific geographic location (your store, your competitor's store, a public sporting event or venue), track those phones and deliver digital messaging to those phones to introduce those consumers to your store, your product or service
Cost: The Reason Your Business Can't Miss Out
All of the above can be accomplished with incredible cost efficiencies compared to traditional media. For example, compare our market relative cost per thousand (cpm) impressions to local media costs to deliver 3 million consumer impressions:
Television 1 million impressions $100 cpm

Radio 1 million impressions $15 cpm

Outdoor 100 showing 1 million impressions $66 cpm

Three Insertions Page Dominant Sunday
Arizona Daily Star 420k circulation $36 cpm


Traditional Media Total Cost for 3 million impressions $82,000
Our targeted digital media = 3 million impressions $5.50 cpm

Our total cost for 3 million impressions $16,000


Our technology can deliver 15 million impressions for what traditional media costs to deliver 3 million impressions.
We deliver 500% more bang for the buck! Plus, our targeted digital media is the least wasteful alternative for advertisers. We only deliver messaging to qualified prospects. Traditional media reaches significant audiences, who aren't in the market for, have no interest in or need for your company's products or services. Unlike traditional media, our targeted digital media tracks behavioral results to the level of individual consumers.
Our targeted digital media is flexible, able to adjust messaging in minutes based on performance evaluation and able to segment audiences by geography and demographics much more accurately than traditional media.

Digital Visibility Marketing offer you the most cost effective, least wasteful marketing communications solution!
Digital Display Advertising